PDO Filler
Rejubella
PDO dermal filler
01
PDO Microsphere
02
Safe & Quick Treatment
03
Natural Collagen Generation
04
Enhancement of Facial Health
A polymer filler made by a new form of PDO whose stability has been confirmed for over 40 years.
PDO dermal filler Rejubella aims to promote collagen production and maintain volume.
Rejubella improves the fundamental deficiency of volume by collagen restoration.
Specification
Patent 10-2019-0124485
Product of uniform size Microsphere PDO particles
PDO Microsphere Features
The surface is smooth spherical and even particle
Cannula size : 26G
Size : 10-60μm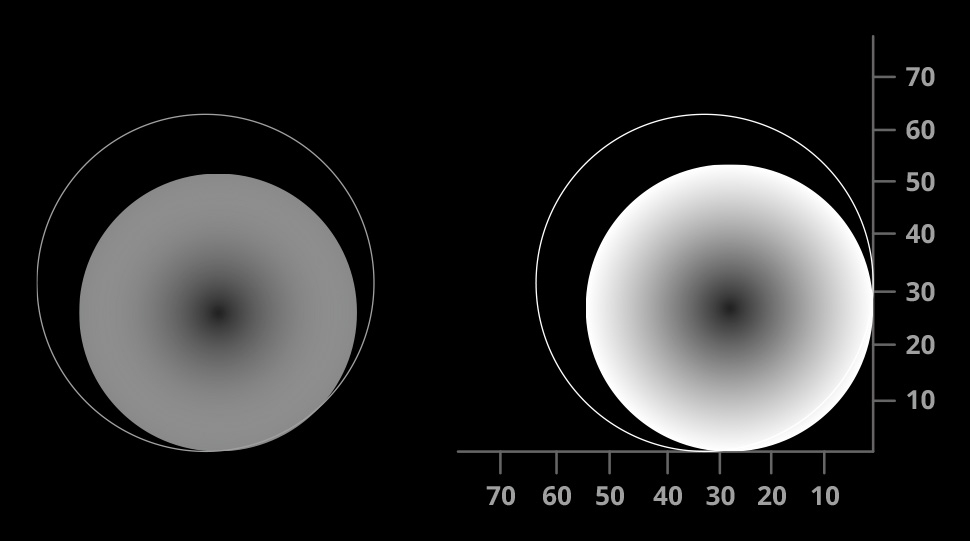 Capacity : 300mg/vial,
1vial/box or 5vial/box
PDO(polydioxanone) 150mg
+
CMC 150mg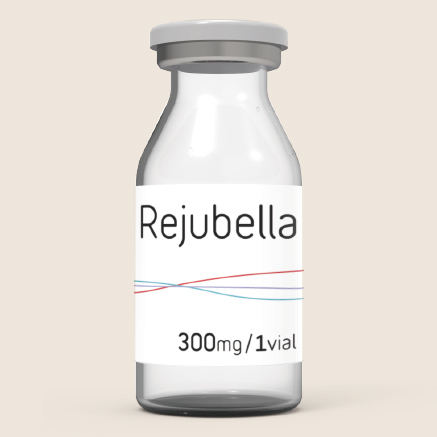 Surface area of one PDO microsphere : 0.00608mm2
Surface area of approximately 2.6 million PDO microspheres of Rejubella : 15,800mm2
=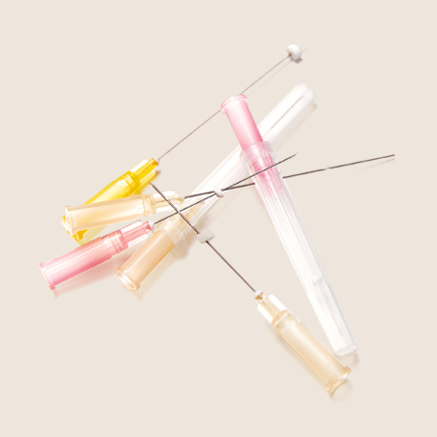 Surface area of one PDO mono thread (USP6-0 50mm) : 11.0mm2
Similar effect to 1,436 PDO mono threads
1Week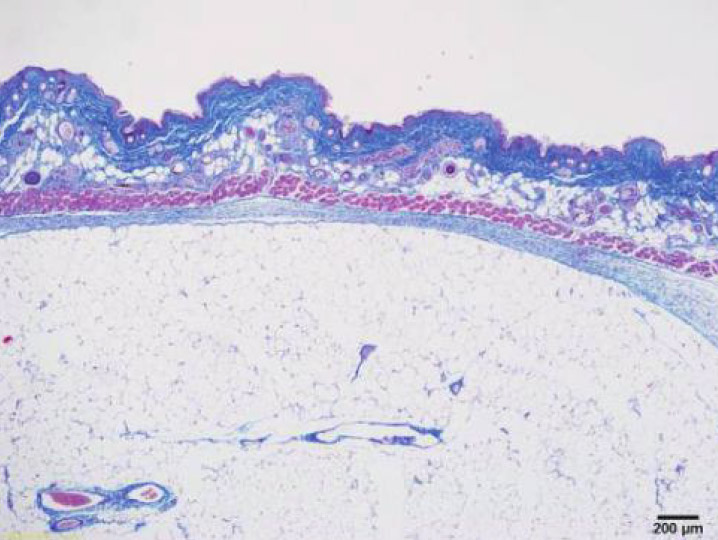 4Weeks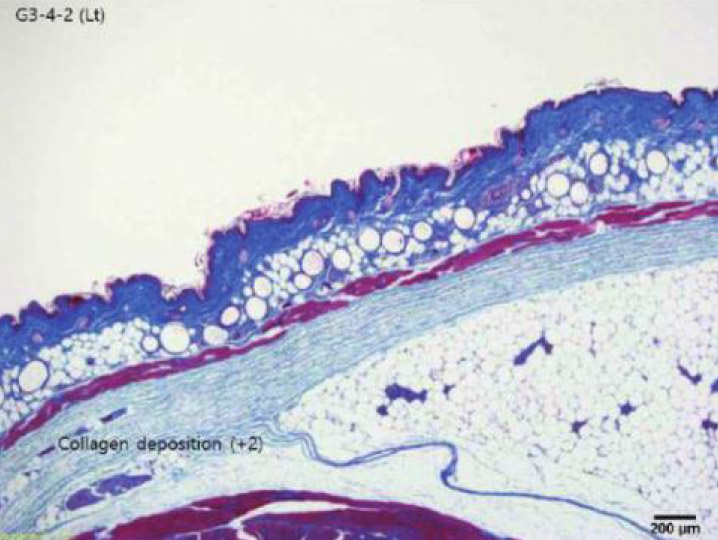 Collagen Generation
PDO fillers stimulate the skin through normal metabolic processes in the body.
As the fibroblasts of the irritated skin are active, it promotes regeneration of collagen and various skin tissues, improving the volume and elasticity.
Function Comparison
#
METABIOMED
company A
company B
Image
Main ingredient
PDO

(Polydioxanone)

PCL

(Polycaprolactone)

PLLA

(Poly-L-Lactic acid)

Component

PLLA150mg

+

CMC90mg

+

Mannitol127.5mg

Total capacity
300mg / 5ml*
1cc
367.5mg / 5ml*
Decomposition period
1 year
1~4 years
2~2.5 years
Particle size
10-60μm
25-50μm
40-63μm
Particle shape
Uniform spherical
Uniform spherical
Sharp non-uniform
Type
Powder
Liquid
Powder
Rejubella is a filler that consists of stable PDO microspheres developed by Metabiomed, and has fewer side effects and shorter preparation time compared to other companies.
Mechanism Process
1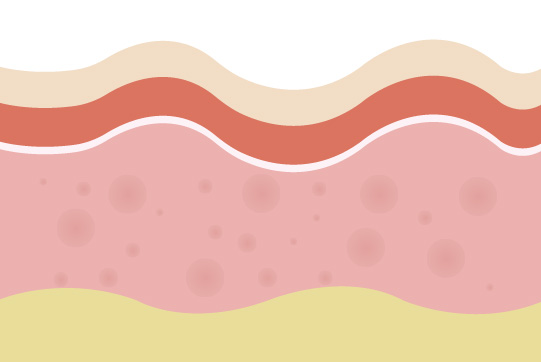 Before Treatment
2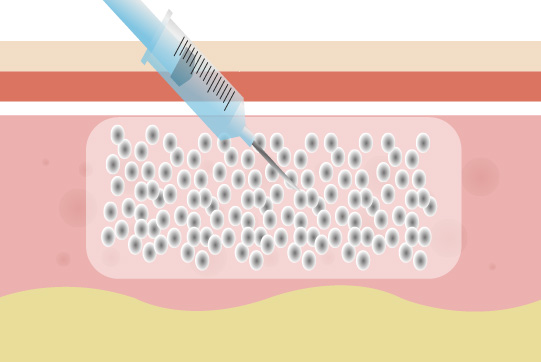 Making Volume
3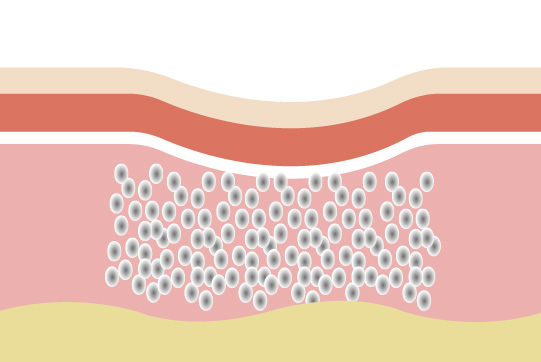 Back to Original State
4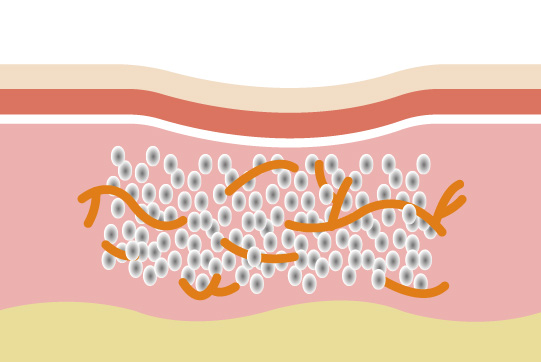 Collagen Generation Increase of Dermal Thickness
How to use
1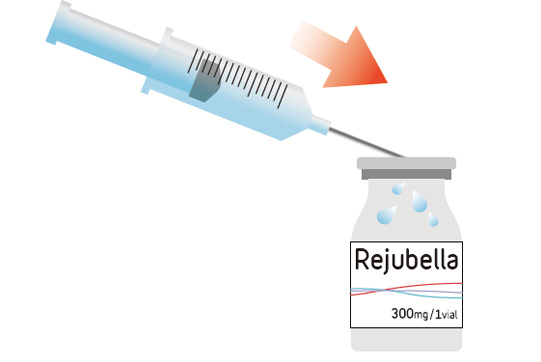 Inject 5ml of sterile water into 1vial by a syringe with a sterile 18g needle.(add 1~2ml of lidocaine)
2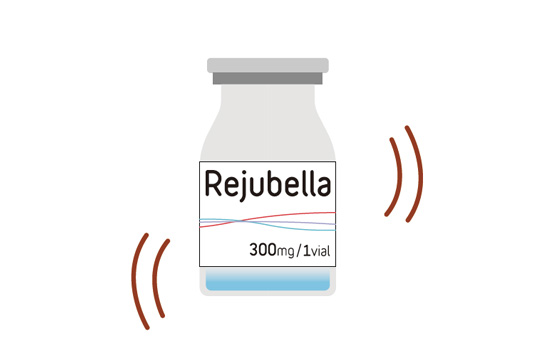 Shake enough to completely hydrate the product.
3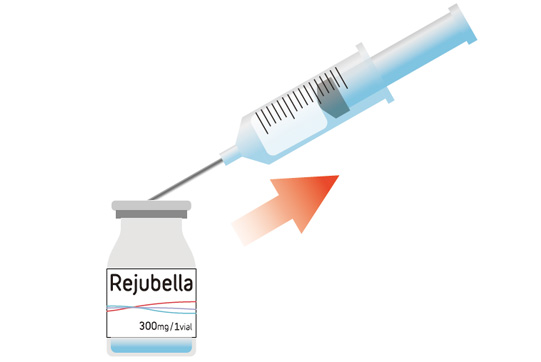 After shaking the vial to make a suspension, take an appropriate amount of the product with 1-3ml sterile syringe and a new 18g needle.
4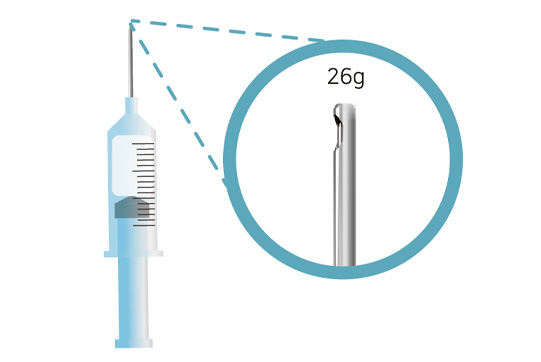 Use the product after connecting 26g needle to the syringe.
Safe & Biodegradable
0 day
1 week
1 month
2 month
3 month
5 month
6 month
METABIOMED

company A

company B

Changes of filler volume
In the case of the product of companyA and companyB, it was confirmed that all substances in the body were biodegraded at the first month. And in the case of Rejubella, all substances in the body were biodegraded at the 5th month.
As Rejubella slowly biodegrades, the effect of self-generation lasts for a long time.
Self healing process stimulates collagen and elastin production during hydrolysis.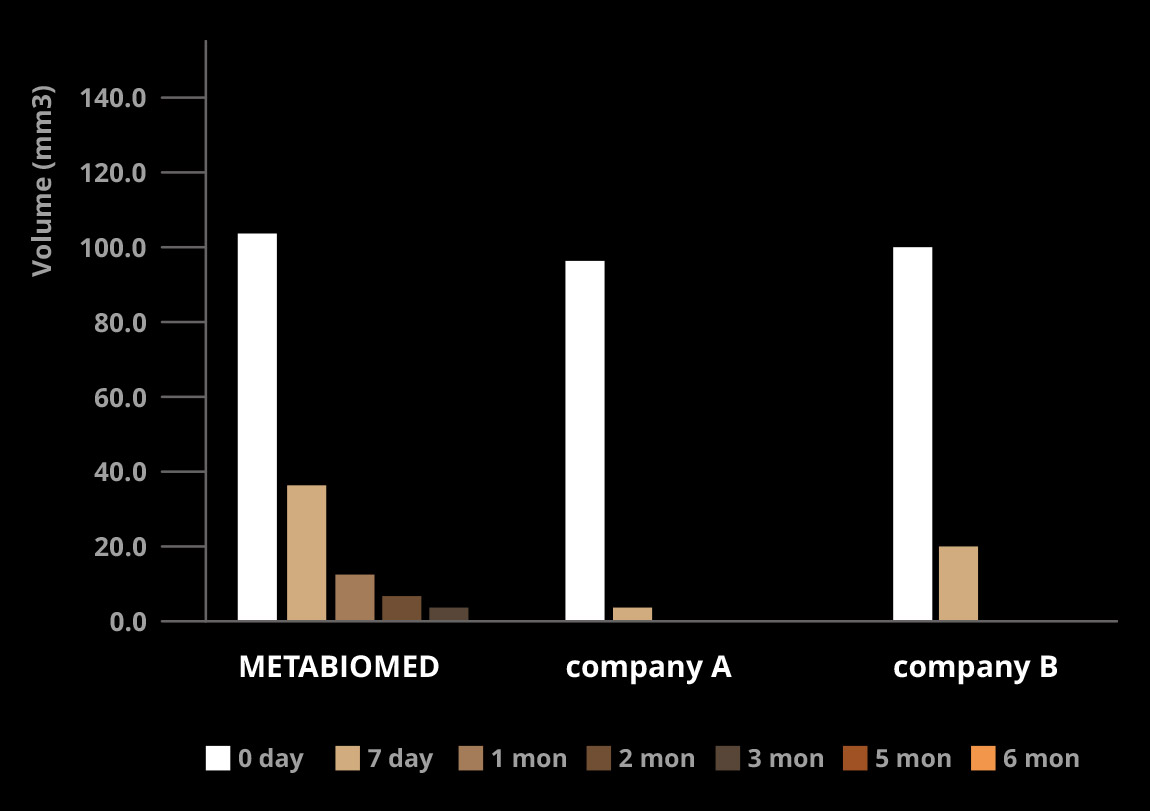 PDO powder filler Areas
Wrinkle improvement
1

Frown Lines

2

Brow(worry) Lines

3

Eye Brow

4

Crow's Feet

5

Nosolabial folds

6

Marionette Lines
Volume
7

Cheek Augmentation

8

Fill temple depressions

9

Chin Augmentation
further product information
Download